Låtlistan för Rock Band är klar!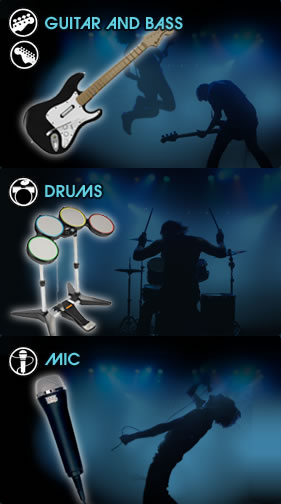 Ta en bra idé och gör den ännu bättre - Harmonix som är upphovsmakare till Guitar Hero har tagit nästa steg och i deras nya spel Rock Band kan man jamma med tre kompisar samtidigt.

Rock Band fungerar precis som Guitar Hero, men har ytterligare två instrument - bas och trummor - och ett sångspår. Priset är inte helt klart, men det verkar hamna kring 2000:- inklusive alla instrument. Rock Band har alla chanser att bli vinterns stora partyspel!
I veckan släpptes den officiella låtlistan:
1960s
Rolling Stones "Gimme Shelter"
1970s
Aerosmith "Train Kept a Rollin'"*
The Who "Won't Get Fooled Again"
Boston "Foreplay/Long Time"
Mountain "Mississippi Queen"*
The Police "Next to You"
David Bowie "Suffragette City"
Black Sabbath "Paranoid"*
Blue Oyster Cult "Don't Fear the Reaper"
The Ramones "Blitzkrieg Bop"
Deep Purple "Highway Star"
KISS "Detroit Rock City"
Molly Hatchet "Flirtin' With Disaster"
The Outlaws "Green Grass & High Tides"*
Sweet "Ballroom Blitz"*
1980s
Rush "Tom Sawyer"*
Bon Jovi "Wanted Dead or Alive"
The Clash "Should I Stay or Should I Go"
Faith No More "Epic"
R.E.M. "Orange Crush"
Iron Maiden "Run to the Hills"*
1990s
Foo Fighters "Learn to Fly"
Metallica "Enter Sandman"
Nirvana "In Bloom"
Stone Temple Pilots "Vasoline"
Weezer "Say It Ain't So"
Smashing Pumpkins "Cherub Rock"
Radiohead "Creep"
Beastie Boys "Sabotage"
Hole "Celebrity Skin"
Garbage "I Think I'm Paranoid"
Soundgarden "Black Hole Sun"
2000s
The Hives "Main Offender"
Queens of the Stone Age "Go With the Flow"
The Strokes "Reptilia"
Jet "Are You Gonna Be My Girl"
OK Go "Here It Goes Again"
Nine Inch Nails "The Hand That Feeds"
Pixies "Wave of Mutilation"
Yeah Yeah Yeahs "Maps"
Red Hot Chili Peppers "Dani California"
Coheed & Cambria "Welcome Home"
Fallout Boy "Dead on Arrival"
The Killers "When You Were Young"
New Pornographers "Electric Version"
* Cover-version
Den här listan innehåller en helt sjukt hög procent favoritlåtar av band jag har lyssnat mycket på i mitt liv, så det här känns som ett givet köp!
Såhär ser det ut när man spelar:

Anders Bornholm
2007-11-01